Posts for tag: oral health
By Aspen Hill General & Cosmetic Dentistry
November 10, 2018
November is National Diabetes Month—a time to focus on a disease that affects more than 400 million people around the world. What does diabetes have to do with oral health? Plenty! Here's a true-or-false quiz to test your knowledge on this important topic.
TRUE OR FALSE:
1. Diabetes and gum disease are connected.
TRUE. Studies have found a clear association between diabetes and gum (periodontal) disease, especially when diabetes is not well controlled. People with poorly controlled diabetes have a more severe inflammatory response to the bacteria that cause gum disease. While inflammation is normally a protective reaction of the body's immune system, too much inflammation can actually make the condition worse. In the case of gum disease, the reverse is also true: Untreated gum disease can worsen blood sugar levels in people with diabetes. The good news is that treatment of periodontal disease has been shown to improve blood sugar control.
2. People with diabetes can't have dental implants.
FALSE. Research has shown that dental implants can be a very successful tooth-replacement treatment for people with diabetes. But again, blood sugar control can be a factor. Dental implants are titanium posts that serve as artificial tooth roots. Minor surgery is required to insert an implant into the bone beneath the gums; a realistic-looking dental crown is later attached to it so it can look and function like a natural tooth. Studies have shown that it takes longer for the bone to heal around implants in people with poorly controlled diabetes. That doesn't make implant treatment impossible, but it does mean that it may be managed differently. For example, an implant may be allowed to heal for a longer period of time before a crown is attached to it.
3. People with diabetes can't do anything to improve their oral health.
FALSE. People with diabetes can have a very positive impact on their oral heath, by doing their best to control blood sugar levels with a healthy diet and exercise, and by sticking to an effective daily oral hygiene routine. This includes brushing twice a day for two minutes each time, and flossing at least once each day to remove bacterial plaque between teeth. Regular dental checkups and cleanings are also essential—not just for people with diabetes, but for everyone!
If you have additional questions about diabetes and oral health, please contact us or schedule an appointment for a consultation. You can learn more about diabetes and oral health by reading the Dear Doctor magazine article "Good Oral Health Leads to Better Health Overall."
By Aspen Hill General & Cosmetic Dentistry
October 22, 2017
Your diet can play as important a role in your dental health as brushing and flossing. What you eat (particularly sugar) could increase your risk of tooth decay despite your hygiene habits. And vice-versa: a nutritious diet may help boost your preventive efforts even more.
Let's look at two very different approaches to diet and see how your dental health is likely to fare under each.
A High Sugar/Low Fiber Diet. Modern western diets heavy with processed foods are inundated with two particular types of refined sugars. The first is sucrose, which comes mainly from either beets or sugar cane. Foods (and beverages) may also contain a refined sugar from corn known as high fructose corn syrup. Refined sugars are added for taste to thousands of products like cake, candy, soft drinks or even condiments like catsup. These "free" sugars are easily processed by bacteria into acid. Combine that with fewer fibrous vegetables in the diet and you have a recipe not only for obesity and other health issues, but tooth decay as well.
A High Fiber/Low Sugar Diet. Fruits and vegetables make up a large part of this kind of diet, while added free sugars much less so. That doesn't make this diet sugar-free: all plant products contain simple sugars produced by photosynthesis. The difference, though, is that these sugars — glucose, fructose and sucrose (natural, not the refined versions) — are more slowly absorbed into the bloodstream during digestion because of the fiber content of fruits and vegetables. You'll also receive other nutrients like vitamins and minerals necessary for good health. Eating this kind of diet will help decrease the risk of tooth decay.
So there you have it: eat more fresh fruits and vegetables and restrict your intake of processed foods and sweets. You may also want to fine-tune a few items to maximize decay prevention: for example, eat starches in their natural form (whole grains, beans or certain fruits) as much as possible rather than refined or in combination with added sugar (cakes, cookies, etc.). And while fresh fruits with their naturally occurring sugars aren't a significant factor in tooth decay, dried fruits (especially with added sugar) might.
Bon appétit!
If you would like more information on proper diets for better oral health, please contact us or schedule an appointment for a consultation. You can also learn more about this topic by reading the Dear Doctor magazine article "Nutrition & Oral Health."
By Aspen Hill General & Cosmetic Dentistry
July 01, 2017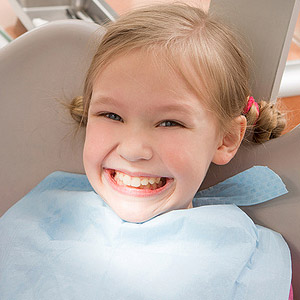 When it's time for your child to visit the dentist (we recommend around their first birthday), you may want them to see your family dentist. But you might also want to consider another option: a pediatric dentist.
The difference between the two is much the same as between a pediatrician and a family practitioner. Both can treat juvenile patients — but a family provider sees patients of all ages while a pediatrician or pediatric dentist specializes in patients who haven't reached adulthood.
Recognized as a specialty by the American Dental Association, pediatric dentists undergo about three more years of additional post-dental school training and must be licensed in the state where they practice. They're uniquely focused on dental care during the childhood stages of jaw and facial structure development.
Pediatric dentists also gear their practices toward children in an effort to reduce anxiety. The reception area and treatment rooms are usually decorated in bright, primary colors, with toys and child-sized furniture to make their young patients feel more at ease. Dentists and staff also have training and experience interacting with children and their parents to help them relax during exams and procedures.
While a pediatric practice is a good choice for any child, it can be especially beneficial for children with special needs. The "child-friendly" environment is especially soothing for children with autism, ADHD or other behavioral/developmental disorders. And pediatric dentists are especially adept in treating children at higher risk for tooth decay, especially an aggressive form called early childhood caries (ECC).
Your family dentist, of course, can presumably provide the same quality care and have an equally welcome environment for children. And unlike a pediatric dentist who will typically stop seeing patients when they reach adulthood, care from your family dentist can continue as your child gets older.
In the end it's a personal choice, depending on the needs of your family. Just be sure your child does see a dental provider regularly during their developing years: doing so will help ensure a lifetime of healthy teeth and gums.
If you would like more information on visiting a pediatric dentist for your child's dental needs, please contact us or schedule an appointment for a consultation. You can also learn more about this topic by reading the Dear Doctor magazine article "Why See a Pediatric Dentist?"