Posts for tag: dental implants
By Aspen Hill General & Cosmetic Dentistry
February 09, 2019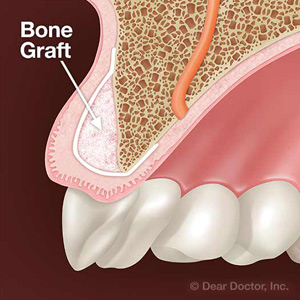 Dental implant technology has advanced at such an astounding rate in recent years that you can now walk into a dentist's office with a problem tooth and out the same day with a new one. Unfortunately, not all dental situations allow for this possibility.
For example, you might be considering an implant many years after losing a tooth. But there's a potential problem: there might not be enough supporting bone. While an implant might still be possible, inadequate bone complicates the matter.
Because implants are essentially tooth root replacements, they require a certain amount of bone for stability and the best attractive outcome. As a general rule, implants need to be surrounded by  at least 1.5-2.0 millimeters of healthy bone to support an implant. But you might not have enough if your tooth has been missing for awhile, regardless if you have or haven't worn dentures or other restorations.
That's because bone has a life cycle in which older cells die and newer ones form to take their place. As we chew or bite, the force generated travels up through the teeth to the bone to stimulate this new growth. Without a tooth the bone doesn't receive this stimulus, which can slow the growth rate. Over time the affected bone can lose its volume and density.
If we find you've experienced loss to the point your bone won't support an implant, that doesn't automatically mean this popular restoration is out of the picture. But it will require us first performing a procedure known as augmentation or bone grafting to help rejuvenate some of the lost bone.
With grafting, we place processed bone grafting material in the jaw through a minor surgical procedure to form a scaffold for new bone to grow upon. After several months this can result in several millimeters of new growth maintaining the width of the underlying bone, which in turn may be able to support an implant.
Bone grafting is quite common, often performed at the same time as tooth extraction if there's going to be a time lag before installing an implant. Even if performed later, though, it can successfully rejuvenate lost bone and make it possible for you to take advantage of durable, life-like implants.
If you would like more information on dental implants, please contact us or schedule an appointment for a consultation. You can also learn more about this topic by reading the Dear Doctor magazine article "Dental Implants after Previous Tooth Loss."
By Aspen Hill General & Cosmetic Dentistry
October 11, 2018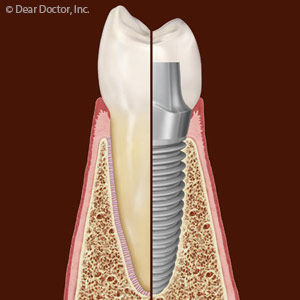 If you're thinking about getting dental implants, you're in good company. Dentists have placed more than 3 million of these popular devices since their introduction in the early 1980s.
But if you have multiple missing teeth, you might think the cost of all those individual implants could put them out of your league. Yes, replacing multiple teeth with individual implants can be quite expensive—but implant technology isn't limited to one tooth at a time. A few well-placed implants can impart their proven durability and stability to other types of restorations.
For example, we can incorporate implants into a bridge for a series of missing teeth. Conventional bridges are normally fixed in place by altering and then crowning natural teeth on each side of the missing teeth gap with a fixed row of prosthetic (false) teeth in the middle to fill it. Instead, two implants placed at the ends of the gap can support the bridge rather than natural teeth. This not only provides greater stability for the bridge, it also avoids permanent altering the natural teeth that would have been used.
Implants can also support a fixed bridge to restore complete tooth loss on a jaw. The new bridge is attached to a few strategically placed implants along the jaw line to equally distribute biting forces. This can result in a strong hold with excellent durability.
We can also use implants to improve traditional dentures. Dentures normally rest directly on the gums' bony ridges, depending on a snug fit for stability. But bone loss, a natural consequence of missing teeth, can still occur while wearing dentures, which may in fact accelerate the rate of loss due to the appliance's constant pressure and friction against the gums.
Instead, just a few implants placed along the jaw can, with attachments built into the denture, hold it securely in place. This not only decreases the pressure on the gums, but the natural bone growth that occurs around the implant may even deter bone loss.
Depending on your situation, there could be a viable restoration solution involving implants. Visit our office for a complete examination and evaluation to see if implants could help change your smile forever.
If you would like more information on implant restorations, please contact us or schedule an appointment for a consultation. You can also learn more about this topic by reading the Dear Doctor magazine article "Dental Implants 101: the Most Significant Innovation in the Past Century."
By Aspen Hill General & Cosmetic Dentistry
May 02, 2017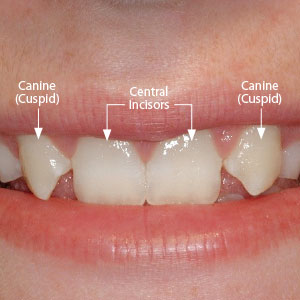 Most children's permanent teeth erupt on a fairly predictable schedule. Sometimes, though, one or more teeth might not develop as they should — or at all.
These absent teeth pose functional problems for chewing and hygiene, which can affect long-term dental health. But they can also have a disruptive effect on an otherwise attractive smile if the missing teeth are the upper lateral incisors in the most visible part of the smile.
You normally find this pair of teeth on either side of the upper central incisors (the two front-most teeth). On the other side of the lateral incisors are the canine or eye teeth, known for their pointed appearance. Without the lateral incisors, the canines tend to drift into the space next to the central incisors. This can produce an odd appearance even a layperson will notice: only four teeth where there should be six!
It's possible to correct this abnormality, but it will take time and expense. The first step is usually to move the teeth in the upper jaw with braces to their correct position. This puts teeth where they should be and also opens space between the canines and central incisors so we can eventually replace the missing teeth with dental implants.
But the key to all this is timing. It's usually appropriate to undertake tooth movement with braces during late childhood or adolescence. But implants shouldn't be installed until the person's jaw fully matures, usually in early adulthood. An implant placed before then could eventually become misaligned.
To accommodate the time between bite correction and implant placement, the patient can wear a retainer appliance that will keep the newly created space open. We can also attach artificial teeth to the retainer to camouflage the empty space.
It usually takes a team of a family dentist, an orthodontist and a surgeon to see this kind of "smile makeover" project through, possibly over several years. But the gains in better aesthetics and health are well worth the time and expense.
If you would like more information on replacing non-developing teeth, please contact us or schedule an appointment for a consultation. You can also learn more about this topic by reading the Dear Doctor magazine article "When Permanent Teeth Don't Grow."